What do you know about the broken link building? Do you consider it one of the most scalable link-building tactics out there?
Have you ever tried doing this? The process is time‐consuming but it brings good results.
This guide is for those who don't know much about how the broken link building works and how efficient it is.
And we'll start from the definition.
What is a broken link building?
Broken link building is one of the link-building strategies where you find a broken link, revive the dead content and let anyone linking to the dead resource know that they can link to your recreated content instead.
Why does the tactic work? Dead links = negative user experience, so nobody wants dead links on their website.
That is why when you tell people about broken links on their site, they are happy to replace them with working ones.
Let's take a look at the example of such a process.
Supposing I find a dead link in some post. Have you ever come across one of these? I am sure you had. There are lots of them on the web.
I use the Wayback Machine to figure out what used to be on this broken page before.
What advantage could Ahrefs take of this?
publish a similar article of our own;
reach out to site owner/webmaster and tell them about the broken link on their website;
suggest that they might want to change the broken link to a working one, the one to our resource.
Simple as ABC.
Your email may look like this:
"Hey, Name,
Helga here from Ahrefs.
I'm writing a post (for Ahrefs) on the topic of [—–] and I actually found one on [Blog Name].
The link is in this post: [link to the post]
It goes to this page: [link to the page]
(a GIF to the broken link)
It looks like it used to be [what it used to be] but [author's name] removed it a while back.
We actually have a similar [what we have] here (here is the link to our content) – it might make a nice replacement.
(Just to clarify, we DO talk about [what we talk about] in this guide/post/article which is what you are talking about in the guide/post/article on [site name]).
Either way, just thought I'd let you know! – we'll be mentioning and linking to you in our guide/post/article."
What are you expecting when sending such a request? You are hoping to get a positive result, aren't you? Unfortunately, you don't always get what you want. You should be ready that a webmaster won't reply at all.
The technique doesn't work every time, so the more people you reach out to, the more links you'll land.
In percent, 5–10% conversion rate can be considered good here.
I will share a nice hack with you right now.
If I check the broken link in Site Explorer, I will see many more links pointing to this broken resource, one of which is from the imaginary blog mentioned above.
What does that mean? It means that I have more link prospects, more people to reach out to, and suggest they replace their broken link with a link to our resource.
If I was to do this, say 40 times, I'd be sure to land at least a few links.
Now we are going to talk about the most time‐consuming part of the process. This is the reason why many people say that broken link building doesn't work. They just don't know how to find relevant broken links.
I will tell you about a few ways to find such pages and we will start with the easiest and quickest method.
1. Find dead pages which have tons of backlinks on the top sites in your niche
It's a bad practice to search for broken pages by chance. I use Ahrefs' Site Explorer for this purpose. You may use your favorite SEO & marketing tool.
Site Explorer has more than 2 Trillion external backlinks in its database, including many broken ones. This makes it really useful for discovering broken pages with heaps of backlinks.
The process looks like this:
At first, you need to create a list of authoritative, competing websites in your niche. Then you will analyze them in your marketing tool.
If you're an Ahrefs user, it's better to use Broken Link Checker to find broken link-building opportunities.
Go to:
Site explorer -> Pages -> Best by Links -> filter for HTTP 404 errors.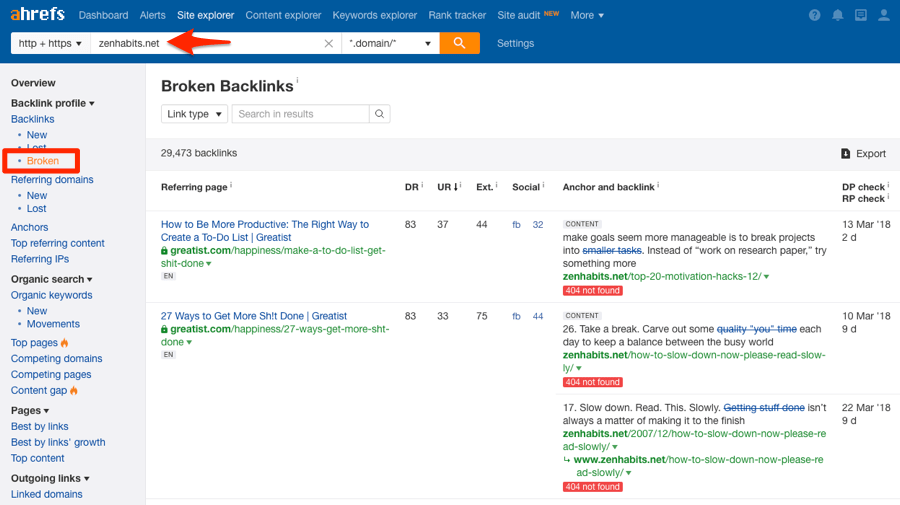 Right, Mix Marketing has no broken links. But if you analyze a website that has linked-to pages that no longer exist, select the ones with a decent number of referring domains, check them on Wayback Machine, and get to know what article the URL used to point to.
The process for one article usually takes me less than 10 minutes. Then I repeat it for all the sites on the list and analyze all of their 404 pages. I get dozens if not hundreds of opportunities for my broken link-building campaign.
2. First, find broken outlinks on those same websites, then figure out which of those links have many backlinks
Supposing there is a very reputable website in the niche you are interested in and you are dying to get a backlink from.
Let's check this site for broken outgoing links in Ahrefs Site Explorer (or another marketing tool of your choice).
Go to Outgoing links -> Broken links.
5,019 pages on this website have links to the external pages that are no longer available.
This looks like one of the promising opportunities:
There's a broken link to an article about the latest Google Algorithm change. I could write a similar article and suggest it as a fix to that broken link.
But I can get even more advantages from that single broken link.
So I go ahead and analyze the dead URL in Site Explorer.
It has another 72 referring domains I can reach out to with my content!
3. Find niche‐relevant expired domains with backlinks
I should warn you beforehand – this tactic is even more time‐consuming than the two I have already covered above. It is not simple, yet working. A lot of moving parts are involved in the process as well as a heap of manual work is required.
At first, select a niche. Then use ExpiredDomains.net to search for domains related to your topic (the resource lets you search for expired domains using keywords).
Found too many results? I guess something nearly 150K+ expired domains. That's too many, so I advise adding a filter to see only .com, .net, and .org domains. This will help to vastly reduce the amount of junk in your results.
Then choose to show 200 domains per page of results. And order the results by the number of backlinks.
Next, I hit the "copy domains to clipboard" icon, paste the domains into Ahrefs Batch Analysis tool, and select the "domains with all subdomains" option for the mode. I sort the list by the number of referring domains and get something like this:
This is the list of multiple expired/broken domains with tons of backlinks.
Each of these domains has hundreds of thousands of backlinks from the referring domains, which are total junk.
It doesn't matter what search term you use on expireddomains.net, the case will be the same for most of the results. Most people will never let sites with a decent number of high‐quality links expire.
However, if you are persistent and ready to dig a bit deeper, you will find some gems for sure.
For instance, you found a link with high DR (Domain Rating 60+) that points to a broken resource available on your expired domains list.
You check the blog post via Wayback Machine, which brings you no results. But you clearly understand what is a blog post about.
You can tell that by looking at the linking anchor text (i.e., "practice relaxation while working").
Imagine that you are looking at the backlinks to this specific page and see that there are two other legit links, with one of them nofollow.
I understand that 3 links are not many, but if you already have a piece of content on the topic, you can easily reach out to these three sites and steal these links. Why not?
4. How to find broken links by scraping resource/links pages in your niche
Most people use namely this tactic to find broken link-building opportunities.
Here are the main process steps:
use advanced Google search operators to find resource pages in your niche;
bulk scrape the search results;
scrape all outbound links from each scraped resource page;
check the HTTP status for each page (look for 404's);
use Ahrefs (or any other similar marketing tool of your choice) to see which pages have the most inbound links.
Now let's briefly discuss the above steps.
To find resource pages in your niche, use Google terms like:
KEYWORD intitle:"resources"
KEYWORD inurl:"links"
KEYWORD intitle:"links" inurl:"/links"
KEYWORD blogs inurl:"resources" intitle:"resources"
Then scrape all of your Google search results using something like Scrapebox, or SERP scraping bookmarklet for Chrome.
Then extract the outbound links from all of those pages. You may use Screaming Frog or Scrapebox for this. These apps will check the HTTP status for every outbound link and you will easily identify 404's.
Don't have the Screaming Frog? You can extract all external links available on a page using Google Sheets with this formula:
=IMPORTXML("page url","//a[not(contains(@href, 'domain'))]/@href")
Then you can use LinkMiner or another similar free tool to check the HTTP status of all external links on each one, one by one.
Anyway, the final step is pasting your list of 404's into Ahrefs Batch Analysis tool to identify the best-broken link-building opportunities.
When you'll find your great opportunities with lots of referring domains, go through the same process as usual:
replicate or replace the content (if you don't have something similar already);
reach out to all of the sites that link to the broken resource and offer your link as a better alternative.
I know it's time-consuming, but the process works.
Summing up
Broken link building works well. The con of the process is that it is somewhat time‐consuming. Though, you can make it easier.
You may consider hiring a VA to find email addresses for you and speed up the process even more. Or you can read our guide to finding email addresses and save a few bucks doing everything yourself. It's not complex if you know the best practices.
BTW, I saved the most important advice for the "final thoughts": always make sure that your replacement link suggestion is a worthy replacement for the broken link.
You'll see that your success rate will drastically increase.
And the last thing. I would be happy to read about your recent broken link-building experience in the comments. Don't be shy to share your favorite tactics with the community.
Are you interested in more link-building strategies? Watch this video: Link Building Strategies on Steroids: How to Get Backlinks FAST!